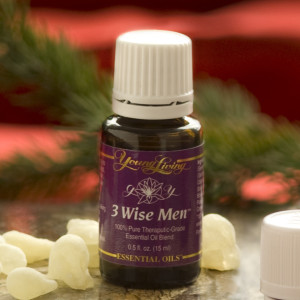 3 Wise Men™ promotes feelings of reverence and spiritual awareness with a blend of therapeutic-grade essential oils formulated to open the subconscious.
This blend, considered a gift by many, enhances emotional equilibrium as it soothes and uplifts the heart.
Three Wise Men Essential Oil is a very spiritual oil that contains sandalwood, frankincense, spruce and myrrh.
All of these oils have been used for thousands of years to open and enhance spiritual communication with the creator.
The blend opens the crown chakra and protects from negative energies and bombardment as well.
Three Wise Men Essential Oil also assists in releasing emotional blocks, trauma, and negative memories.
When we are able to do this, we are able to move forward easier on our spiritual path and open up to new opportunities.
– Sandalwood Essential Oil (Santalum album) is calming and emotionally balancing and is used for stress and unwinding. Also called Aloes.
– Myrrh Essential Oil (Commiphora myrrha) is a very powerful antioxidant. Supportive to healthy skin.
– Spruce Essential Oil (Picea mariana) is grounding and releasing.
 .
– Juniper Essential Oil (Juniperus osteosperma) It may work as a detoxifier and cleanser, is beneficial to the skin, and supportive to the urinary system.
 .
– Frankincense Essential Oil (Boswellia carteri) is high in sesquiterpenes and naturally occurring constituent boswellic acid. It helps to uplift mood and brings feelings of relaxation. It may help smooth the appearance of healthy-looking skin, and is useful in combination with massage after exercise.
The Aromatic Affect of this spicy, incense-like aroma is grounding yet uplifting to the mind.
Three Wise Men essential oil releases negative emotions of fear, exhaustion, and frustration.
It will help you open to joy, excitement and personal change. When we can unlock trauma and emotional blocks, it is so much easier to move forward on our spiritual path.
This oil is used frequently in energy work not only because it facilitates emotional clearing but also because it protects the wearer from negative energies and emotions of those around us.
This is important when doing intuitive work; if we are picking up other energies then we are not transforming others or ourselves. So it is important to stay centered and protected.
Use:
Rub two drops on the crown of the head, behind the ears, over the eyebrows, on the chest, or at the base of the neck.