Abundance – 15 ml
Abundance was created to strengthen our electromagnetic energy field, that surrounds us.
The frequency of "Abundance" helps us to bring our thoughts, wishes and goals into reality because it is correlating with the "Law of attraction" (concerning things we are attracted by and things that we attract). If you live the principles of Abundance you will be free to realise everything in life.
How to apply:
You can put it in your wallet, use it for goal setting, drop it in the corners of your room and on the door case. It is also nice under the feet.
Essential Oils: Orange, Clove, Cinnamon Bark, Frankincense, Ginger, Spruce, Patchouli, Myrrh.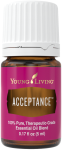 Acceptance – 5 ml
Acceptance™ is a blend that stimulates our spirit and invokes a feeling of inner strength and Trust. Feelings of sorrow and grief can be transformed. This blend helps us to overcome habits of procrastination and denial.
How to apply:
Use it for inhalation, put it on your heart centre, wrists, on the neck and on your temples.
Essential Oils:
Frankincense, Royal Hawaiian Sandalwood, Geranium, Blue Tansy, Neroli, Coriander, Bergamot, Ylang Ylang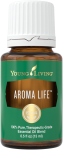 Aroma Life – 15ml 
Aroma Life supports our healthy cardiovascular and lymphatic system. This blend contains oils that are good for relaxation and balance like Marjoram and Ylang Ylang as well as oils that improve the circulation. Cypress is well known es an oil that creates a natural flow and helichrysum is a brilliant cleanser. It combines the harmonising effects of ylang ylang with known powerhouses cypress, helichrysum, and marjoram.
It is one of the oils used in Young Living's Raindrop Technique. Pulsing with life, this vibrant blend energises your life force and may help support you in times of stress.
Essential Oils:
Cypress (Cupressus sempervirens), marjoram (Origanum majorana), Helichrysum (Helichrysum italicum), and ylang ylang (Cananga odorata) in a base of sesame seed oil.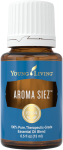 Aroma Siez – 15ml
is a relaxing blend designed for massaging away muscle and body discomfort associated with exercise. It also provides soothing comfort for head, neck, and tired feet.
It contains basil, marjoram, lavender, peppermint, and cypress essential oils and is an integral part or Young Living's Raindrop Technique.
Essential Oils:
Basil (Ocimum basilicum), marjoram (Origanum majorana), lavender (Lavandula angustifolia), peppermint (Mentha piperita), and cypress (Cupresses sempervirens).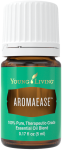 AromaEase – 5 ml
This blend is together with Di-Gize a comfortable oil for the digestive system. Use AromaEase especially for inhaling, if you have a funny feeling in your stomach. This is also good if you have lots of psychic stress. It provides a feeling of calmness when used aromatically
Essential Oils:
Peppermint, Spearmint, Ginger, Cardamom, Fennel.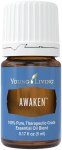 Awaken – 15 ml
is an inspiring combination of several essential oil blends that helps bring about inner awareness and awakening.
True understanding of one's self is the first step toward making successful changes and desirable transitions. This blend may help you progress toward your highest potential.
Essential Oils:
Pure almond oil base, essential oil blends of Joy™, Present Time™, Forgiveness™, Dream Catcher™ and Harmony™.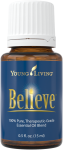 Believe – 15 ml
has been formulated with Idaho blue spruce and ylang ylang from the Young Living farm in Ecuador and has a pleasing aroma that is both grounding and invigorating.
This blend contains Idaho balsam fir and frankincense essential oils that may encourage feelings of strength and faith.
With other complementary oils, the combination in this blend may help assist as you move to a higher level of awareness. As you are able to move past emotional setbacks and barriers, you will be able to reach your true, unlimited potential.
Encourages clarity and enlightening thoughts.
Brings a sense of peace and awareness and is spiritually grounding.
Promotes relaxation and confidence.
Essential Oils
Idaho Balsam Fir (Abies balsamea), Coriander (Coriandrum sativum), Bergamot (Citrus aurantium bergamia), Frankincense (Boswellia carteri), Idaho Blue Spruce (Picea pungens), Ylang Ylang (Cananga odorata), Geranium (Pelargonium graveolens).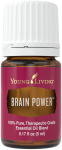 Brain Power – 5 ml
gives your brain a boost with essential oils that are high in sesquiterpenes.
Use it to clarify thought and develop greater focus.
Essential Oils
Sandalwood (Santalum album), Cedarwood (Cedrus atlantica), Melissa (Melissa officinalis), Frankincense (Boswellia carteri), Blue cypress (Callitris intratropica), Lavender (Lavandula angustifolia), and Helichrysum (Helichrysum italicum).