Morning routines are more popular than ever. Wellness experts, self-made millionaires, and TikTok-obsessed teens all swear by their wake-up rituals, which range from pre-dawn Pilates to a half-hour gratitude journal and tea sipping. These daily to-dos are so trendy that with a few clicks on the keyboard, you can even find morning routines for people who hate mornings and routines.
So – and now how do you find your perfect scented morning routine?
Prepare before bed.
A little planning can go a long way toward making your morning relaxing. Prepare everything you have to pack the next morning the night before: Lunch, work/study/school stuff, clothes, sports/yoga clothes if you are going to work out before coming home, etc.

The night before, write down your goals and visions for the day ahead. This way you will plan and prepare the day in an ideal way.

Give yourself time.
Getting up a few minutes earlier can make a big difference between a calm start to the day and feeling woozy and frantic after you've slept through your alarm seven times already….
Not a morning person? No problem – start slowly. Wake up 5 or 10 minutes earlier, and when you get used to it, you can get up another 5 or 10 minutes earlier. Until you find your ideal time to get up. And most importantly, set an alarm tone that inspires you to get up. That puts you right into a peaceful, positive and happy mood.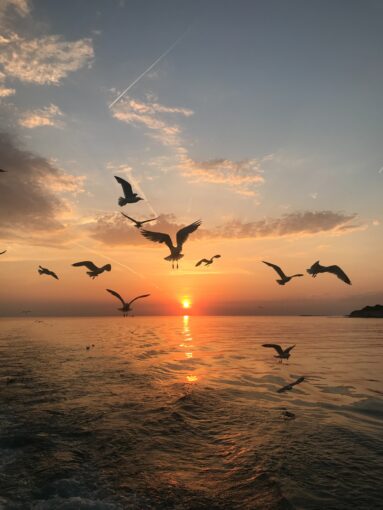 4. Awaken your senses.
No morning without oils! Which oil should set the tone today? Which scent do you want to start the day with?
"You can do it" blend: mix Citrus Fresh, Peppermint and Lemon in equal parts. Add the blend to your diffuser or treat yourself to a fragrant morning anointment.
"Rise and Shine!" Blend: Mix 4 drops of peppermint, 3 drops of 3 Wise Men and 3 drops of sandalwood. Add the blend to your diffuser or treat yourself to a fragrant morning anointing.
"Have a wonderful, good morning – take it easy!" Blend: Mix 3 drops of lavender, 3 drops of sacred sandalwood, 3 drops of Stress Away and 2 drops of Grand Fir. Add the blend to your diffuser or treat yourself to a fragrant morning anointing.

5. Prayer and Meditation.
It's not just your body that needs nourishment. Your inner one does, too. And the first few minutes after waking up are perfect for strengthening your inner peace, love and gratitude. Sit down at your Shrein/meditation place. Take a few minutes to pray or meditate and strengthen yourself for the day ahead.
My favorite oils for prayer and meditation are: Sandalwood, Frankincense, Egyptian Gold, Believe, Abundance, Surrender and Humility. However, it actually varies depending on what is going on in my life at the time. So adjust your oils to what's going on in your life right now.
6. Dress for the day you want to experience and live.
Even if you don't have to go anywhere, take a few minutes to put on something that makes you feel beautiful, strong and confident. Be it a nice shirt, a fancy dress, or big hoop earrings. Maybe even style your hair the way you like it and put on some makeup if that suits you. Savvy Minerals can make you and your skin glow….
Getting ready for the day is an easy way to lift your mood and confidence.

7. Get you moving.
Drive the fatigue and sleep out of your limbs through exercise. There are few better things to start your day full of energy and feeling great. What's your method of exercise? A morning jog? A gentle yoga sequence? Dancing?
If you're not a fan of routines, you can vary your morning activity from day to day. Here are some ideas you can try.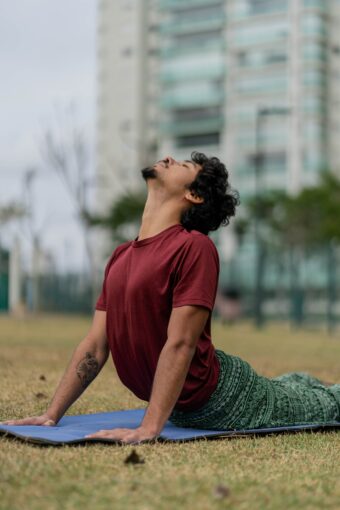 And this is what it might look like…
Move your body. Stretch, go for a jog, or do some push-ups, planks, and jumping jacks in your bedroom.
Wake up your face. Cleanse, tone and moisturize with BLOOM by Young Living™ Brightening Skin Care Collection.
Brew up some tea. Sip on spiced turmeric herbal tea while you read, journal or water your plants.
Nourish not only yourself with a nourishing, flavorful and fortifying breakfast, but also your brain. After all, if your brain isn't nourished daily, it can fall victim to its own mostly negative beliefs and thoughts. Listen to a podcast, speak affirmations or research a topic that interests you. While you're at it, diffuse an electrifying aroma like Lime, Spearmint or Motivation™.
Whatever you decide to do, keep it short and sweet. You don't have to throw yourself into an hour-long morning routine – just a few minutes of deliberate activity can shape your entire day.
YL tip: If you have early riser kids who make it impossible to have a few minutes to themselves, include them in your morning routine. The little ones can quietly color while the older ones read, journal or exercise with you.
Now that you're ready to tackle your day, try these tips to spice up your workout and stay healthy and productive. If you're still feeling sluggish, read five ways to boost your energy naturally.
What does your morning routine look like?
Tell us in the comments!
With very best regards,
Eila for Team ENJOY
Ps: Don't have your own Young Living order account yet? Then go to our aroma experts here, pick someone from your area, and order your essential oils right away. Why wait any longer?
Pss: Would you like to come to a fragrant evening and experience the oils live? Then register here, as soon as the next oil evening takes place in your area, you will be invited to it.