Have you ever felt like truly being at the right place at the right time?
I felt like this back then – that afternoon, when I and some other Europeans were personally invited by Gary Young to come and visit him at his house.
Many people dream of turning their passion into their profession. Gary is one of those people who actually did it. Gary Young, founder of Young Living and father of the modern essential oils movement, has made his dreams come true.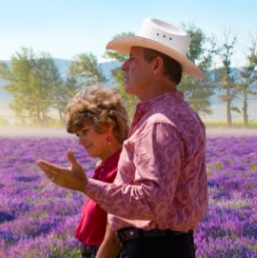 Gary discovered the amazing power of essential oils over two decades ago, and has shared his findings ever since with people around the globe, through his company Young Living.
Over the past nearly 3 decades, Young Living has not only been a remarkable success story, but also an extraordinary love story. D. Gary Young and his wife Mary Young built their company from nothing to phenomenal global success to this day. Their worldwide success is mainly due to their unceasing hard work, high ethical standards, exceptional collaboration, passion, and great vision.
Young Living, the world leader in essential oils, is built on love.
We asked Mary about it:
How did you meet?
"Gary and I first met in October 1993 at a fair at the Salt Palace in Salt Lake City. All of you who have been to the international Grand Convention have been there! This is where I met this incredibly handsome young man, who invited me to a oil class, which unfortunately I could not attend.
But you can believe me – I made sure that he told me about the following meeting, and made sure to be there. That second Young Living meeting came a month later. It changed my whole life.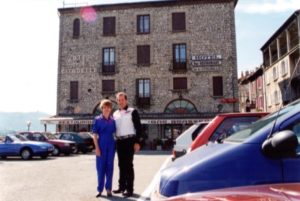 Shortly after I met Gary for lunch at the Salt Lake City Hilton and he offered me a job. I refused, but told him I would help him."
How were your first months of working together?
"In November of 1994, Gary moved Young Living to Riveton, Utah. I helped him in the office while he was traveling, holding meetings, and setting up the farm in St. Maries.
We built Young Living without any outside funding. We never borrowed money, and did most of the work ourselves. We renovated an old, dilapidated building in Riveton. Gary rebuilt the walls, we painted, fixed and renovated as much as we could.
On the very first day that we accepted orders, we collected about $1,800, which was far from enough to pay our bills. Discouraged, we sprayed Abundance on the desk, the phones and the computer – and the phone actually started ringing, and sales grew!"
How was your first date?
"Have we ever had a real date? Not really. We focused completely on Young Living, we wanted to get this project off with a good start. It was all about Young Living, then and now.
Although we never really went on a date, I have a lot of wonderful and funny memories of that time. For example, when we built the first destillery on St. Maries, with a PVC tube; when the steam flowed through these tubes, they collapsed. So we had to rebuild the whole thing, this time with steel pipes! Although it was very frustrating at the time of course, it has now become a funny memory and all that was part of the experience, that made us what we are today".
How was your wedding?
"We were married on September 2, 1994. On September 3rd we flew to an essential oils conference in Grasse, France. This was our honeymoon, so to speak.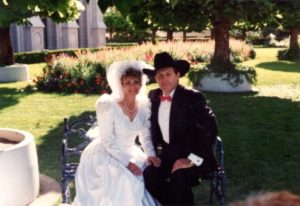 Our wedding was like a race, as our lives still are today. We were late for both the wedding ceremony and the celebration that took place in the former Hotel Utah. The room was large, full of ornaments and beautifully decorated. The queue of guests reached out through the entrance door to the street! My friends from the opera and I sang, my mother had baked a huge carrot cake, and many people came to congratulate us. There were so many guests that I could not remember the names of most of them. It was really funny to introduce people to each other when I didn't even know their names myself.
The party lasted until 2 pm, around 3 pm we were at home and at 5 pm we went to the airport, because our plane to Europe left at 7 pm.
When we arrived in Paris, we rented a car to drive to Grasse. We took turns in driving, hoping that we would be able to stay awake long enough to get to Grasse. But in the end we were just too tired, drove to the side and slept a few hours. Luckily in the end we made it to the conference, and I am very glad we did. It was fascinating and definitely worth it."
How long were you married?
"In 2018, it was 24 years."
What's the secret to a long, successful marriage?
"What was our secret? Our values and priorities were the same. We both always wanted to help people. We both wanted people to know the truth and that this truth would make their lives better. True wellness, true health, lies in the "medicine of God", not in the drugs and pills from the labs. We have both worked very hard to share our discoveries and insights with as many people as possible, so that everyone can discover their own personal wellness and health for themselves. We loved holding meetings together, working together, yes, we were a good team.
We both cared a lot about health and nutrition. We both loved the challenge of discovering the way to a healthy lifestyle today and sharing our discoveries with others.
We both loved truth above all else and were always deeply rooted in our love for God. It has often been said about us that Gary is the visionary and I am the realist. This was a very good dynamic that worked great together."
What do you love most about Gary?
Gary was a man of honesty, sincerity and integrity who always worked harder than most men, even when they were 20 years younger than him. He loved the physical work on the farms, because at the end of the day he could see what he had accomplished. He was wise, sensitive, understanding, and always focused on the solution. Nothing could shake his determination. When he had a vision, he immediately saw it happen and this gave him the ability not to stop until his vision had come true.
Neither one of us will stop doing anything until it's finished. Working together has always been very easy for us. We thought very similarly – mostly – and our goals were more or less the same. Our strengths and thoughts complemented each other."
What's the secret to working so closely with a partner? How does one manage to take time out for personal connection when both are working?
Our lives are inextricably linked to Young Living. And since our boys were born, their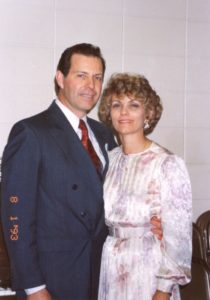 lives have been part of what we do as well. The only moments when we put work aside was when we went hiking in the mountains. There is no communication with the outer world possible out there. There it is all about fishing, hiking, relaxing in the hot waterfalls, making fires, and sometimes about the bear coming to steal food."
What Gary and Mary Young have built over the past decades has become an indispensable part of a healthy, free life for millions of people today. Young Living continues to transform the lives of millions through its products and essential oils, strengthening their health, giving them more freedom and abundance and more.
What's your favorite oil? What is your favorite application? What is your favourite product? Please share in the comments below!
For now I wish you a beautiful 3rd Advent,
Eila Büche for Team ENJOY
Ps: You don't have a Young Living order account yet? Then go to our aroma experts here, choose someone from your area, and order your essential oils right now. Why wait any longer?
Pss: Would you like to come to a fragrant experience evening and get to know the oils live? Then sign up here, as soon as the next oil evening takes place near you, you will be invited.
Source for the interview with Mary comes from: https://www.youngliving.com/blog/gary-and-mary-young-a-love-story/