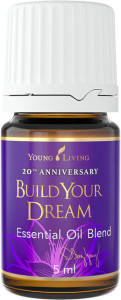 Perfect Oil to build your Dreams in 2016!
Build Your Dream Essential Oil assists you in building your hopes and dreams.
It contains the rare Blue Lotus Oil; and Believe and Dream Catcher Blend.
Use for relaxation, meditation and visualization.
This unique commemorative blend contains significant oils that highlight Young Living's 20-year journey of helping individuals discover essential oils, personal transformation, vital health, and abundance around the world!
How to use it: 
– Diffuse to reduce feelings of mental fatigue and disconnection; to help support relaxation; and to create an atmosphere of peace, purity, awareness, and confidence.
– Add 10-15 drops to V-6™ Vegetable Oil Complex for a stress-relieving, calm and balancing massage or reflexology treatment.
– Use in the morning during prayer or meditation to open up intuition and allow your day to unfold in the creation of your dreams.
– Use topically as an aromatic to inspire confidence, clarity, and focus.
– Add 20 drops to Young Living lotion to create a nourishing moisturizer to support healthy skin.
– Add 10-15 drops in Young Living Bath & Shower Gel Base for a soothing shower or relaxing bath.
– Add 1 drop to Young Living's A·R·T® Skin Care System to support beautiful, glowing, youthful skin.
– Use at night before bed. Apply to the nape of the neck and on the wrists as you visualize and affirm your life and dreams.
Contains: 
– Lavender Essential Oil (Lavandula angustifolia), 
– Sacred Frankincense Essential Oil (Boswellia sacra), 
– Melissa Essential Oil (Melissa officinalis), 
– Blue Cypress (Callitris intratropica), 
– Hong Kuai (Chamaecyparis formosensis), 
– Idaho Blue spruce (Picea pungens), 
– Ylang Ylang (Cananga odorata), 
– Dream Catcher™ (Sandalwood, Black Pepper, Anise, Tangerine, Bergamot, Blue Tansy, Ylang Ylang, Juniper), 
– Believe™ (Idaho Blue Spruce, Idaho Balsam Fir, Frankincense, Coriander, Bergamot, Ylang Ylang, Geranium), 
– and Blue Lotus (Nymphaea caerulea).