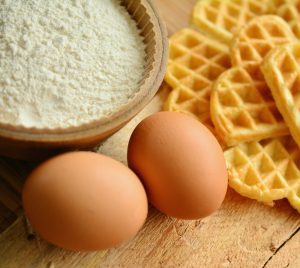 Start your day off right with these delicious waffles with Lemon-Lavender Blueberry Syrup.Mom was right – breakfast really is the most important meal of the day. Packed with complex carbohydrates, protein and wholesome ingredients. Enjoy this delicious recipe created by Shirazi of "Gourmande in the Kitchen". 
What you need:
– 2 teaspoons baking powder
– ½ teaspoon sea salt
– 2 tablespoons coconut sugar
– 8 ounces plain whole milk yogurt (preferably with a loose consistency)
– 2 large eggs
– ¼ cup melted coconut oil (plus more for waffle iron)
– 1 teaspoon vanilla extract
For the Lemon-Lavender Blueberry Syrup Recipe
– 1 ½ cups frozen wild blueberries
– ⅓ cup unfiltered honey
– 3 tablespoons fresh lemon juice
– 1 drop Lavender Vitality essential oil
– 3 drops Lemon Vitality essential oil
How to do them:
In a large bowl, whisk together flour, baking powder, salt, and coconut sugar. In another bowl, whisk together yogurt, eggs, melted coconut oil, and vanilla extract until smooth. Stir egg mixture into flour mixture and mix well to combine. Let batter sit 10–15 minutes for the flour to fully hydrate. While waiting, make the syrup.
Combine the blueberries, honey, and lemon juice in a small saucepan and bring to a boil. Reduce heat and simmer for 5–10 minutes or until the mixture is syrupy. Set aside to cool slightly; then add Lavender and Lemon Vitality essential oils, stirring well to combine.
Heat waffle iron at medium heat and brush with melted coconut oil. Pour ¼ of the batter onto iron and close. Cook until waffle is golden brown and crisp, about 4 minutes. Transfer to a wire rack set on a baking sheet in a low-temperature oven to keep warm; repeat with remaining batter.
Serve immediately topped with the Lemon-Lavender Blueberry Syrup.