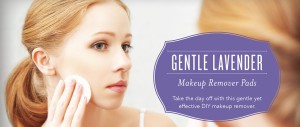 When it's time to recover from a long day, it's best to climb into bed with a fresh, fragrant face.
Scrubbing with ineffective or harsh removers can do more damage than good though, especially near the sensitive eye area where the skin is thinner and more prone to fine lines and irritation.
Instead of harsh makeup removers, try this easy to make DIY makeup remover pads, infused with the heavenly Lavender essential oil.
You'll know exactly what goes into this formula, plus you'll get the benefits of Lavender's relaxing and nurturing gifts.
What do you need to make them?
– 2 tablespoons V-6™ Vegetable Oil Complex

– 4 drops Lavender essential oil
– 1 tablespoon witch hazel (preferably alcohol free)
– 2 tablespoons filtered water
– Round cotton pads
– 4-ounce airtight glass container
To Make:
Pour V-6 Vegetable Oil Complex, Lavender oil, witch hazel, and water into jar. Tighten lid and shake thoroughly.
Place 10 or so cotton rounds in the glass container, tighten lid, and rotate until solution soaks into cotton pads.
Print labels on a sticker sheet or on paper and affix with glue. Place label on container lid.
To Use:
Remove one wipe and squeeze out excess liquid.
Gently blot or wipe over closed eyelids until makeup is removed.