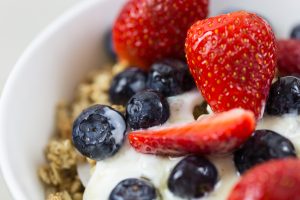 The mango berry base is the perfect foundation for your favorite toppings like strawberries,nuts and seeds, bananas, or Young Living goodies. Get experimenting today to find your perfect combination with what ever berries and fruits you choose.
What you need:
– 1 scoop Vanilla Spice Pure Protein Complete™
– ½ cup almond milk
– 1 cup frozen mango chunks
– ½ cup frozen strawberries
– ½ cup frozen raspberries
– ¼ cup plain Greek yogurt
– 2 drops Grapefruit Vitality™ essential oil
– Toppings of your choice
How to do it: 
Blend all ingredients except toppings in a blender.
If needed, add more milk or water until mixture is well blended and smooth.
Separate into two bowls and garnish with your choice of tasty toppings. We love bananas, strawberries, Organic Dried Wolfberries, crumbled Slique® Bars, and chia seeds.