Among my friends it is no secret – I love eucalyptus! In fact, all three varieties: Eucalyptus Radiata, Eucalyptus Globulus and Eucalyptus Blue. The Eucalyptus Oils Globulus and Radiata are distilled from the leaves of the mighty eucalyptus trees in sunny Australia. Eucalyptus Blue comes from the farm in Guayaquil, Ecuador.
So grab yourself a cold drink, your cuddly koala and make yourself comfortable! It's time for a nose full of eucalyptus…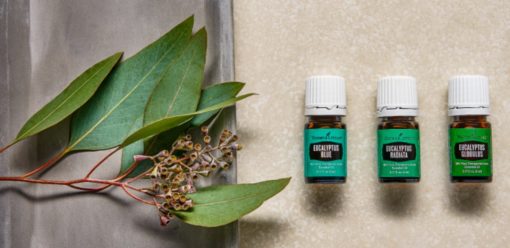 Traditionally, eucalyptus is used largely for the healthy respiratory tract, joints and muscles after exercise. The Australian Aborigines also used the scent of eucalyptus to relieve occasional physical and emotional suffering.
Eucalyptus oils are also popular in applications for spiritual transformation. The scent of eucalyptus brings relationships to light. This includes your own relationship to yourself, but also to other people, to your work, to your life mission and to your higher self and the divine.
Eucalyptus helps you look at your patterns that hold you back. And also to recognize your patterns when they appear when you are with your family, when your triggers are pressed.
By becoming aware of your patterns, you can dissolve them, v
change and bring harmony to your relationships.
Eucalyptus Radiata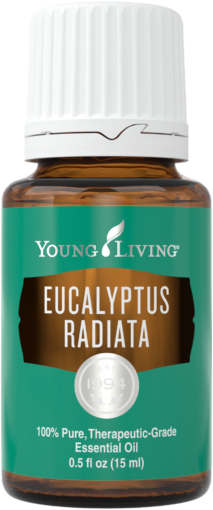 Eucalyptus Radiata is also known as "black peppermint". It contains 60-75% 1.8 cineol. You will notice that Eucalyptus Radiata is similar to the globulus, only slightly milder and less intense. This makes Eucalyptus Radiata more suitable for very sensitive people and small children, for whom the globulus can be a bit too intense and strong.
Where is it come from? Australia
How does it smell? Fresh, pure and slightly citrusy – like a wild orchard after a refreshing spring shower.
How is it distilled? Eucalyptus Radiata is obtained by steam distillation from the leaves of the eucalyptus trees. Did you know that these trees are also called "narrow-leaved peppermint trees"?
Some of my favorite blends that contain eucalyptus radiata are: R.C., Thieves, Raven, Boswelia face cream and in Ortho Ease massage oil.
Eucalyptus Globulus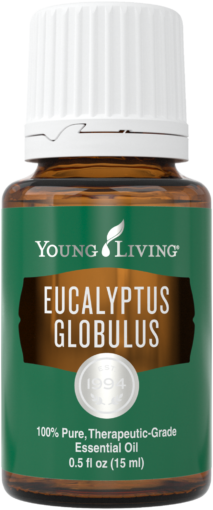 Eucalyptus Globulus is also known as "Eucalyptus" or "Blue Gum Tree". It contains 60-75% 1.8 cineol. This is the strongest of all eucalyptus varieties.
Where does it come from? Australia
How does it smell? Brave, rich and earthy – a warm summer day on the meadow, next to a cool little brook.
How is it distilled? Eucalyptus Globulus is obtained by steam distillation from the leaves of the large, aromatic eucalyptus trees of the Myrtaceae family.
Some of my favourite mixtures in which eucalyptus globulus is found are: R.C. Ortho Ease and Ortho Sport Massage Oil.
Eucalyptus Blue (Bicostata)
Eucalyptus Bicostata is also known as Eucalyptus Blue, the blue eucalyptus. It contains 1.8 cineoles and a very high proportion of alpha-pinene.
Where does it come from? Ecuador
How does it smell? Herbaceous, woody and inviting – an autumn day hiking in the mountains.
How is it distilled? Eucalyptus Blue is steam distilled from the leaves of the mysterious blue eucalyptus trees of South America.
Some of my favourite blends in which eucalyptus blue is found are: Breathe Again Roll-On.
There are over 700 different species of eucalyptus. These three described above have the most powerful, beneficial effects, and are available to order permanently from the Young Living program. Now I'd like to tell you about a few others too, that can be ordered from time to time for special occasions and that also have great effects.
Eucalyptus Citriodora
Eucalyptus Citriodora is also known as the "lemon eucalyptus". It contains 40-80% citronellal and also a very broad spectrum of chemotypes.
Where does it come from? Australia.
But the trees also grow in Guatemala, Colombia, Egypt, South Africa, India and China. The trees of Madagascar contain a very high proportion of phenols. The trees from Brazil contain a high proportion of aldehydes.
Yes, it is actually important where a plant comes from. Depending on where a plant grows, it also contains different chemotypes. Ingenious, isn't it?
Einige meiner Lieblingsmischungen, in denen Eukalyptus Citriodora zu finden ist, sind: R.C.
Eucalyptus Dives
Eucalyptus Dives is also known as "Peppermint Eucalyptus". It contains 35-50% piperitones and 23-30% phellandrene.
It contains 35-50% piperitone and 23-30% phellandrene. It has three chemotypes, which have different uses: CT-cineol, CT-piperitone has a minty scent and CT-phellandrene is traditionally used as an insect repellent.
By the way – I have found, that insects in generall don't particularly love the smell of eucalyptus. What are your experiences in this field?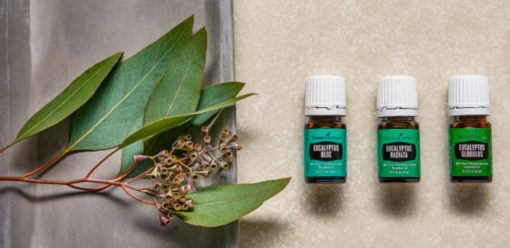 How to apply eucalyptus oils?
Now that we have looked at the Eucalyptus 101, it is time for Eucalyptus 201: the benefits and effects of eucalyptus oils.
Now it gets really interesting: because you can really use eucalyptus from head to toe. Are you ready to go?
A little secret: Although the different eucalyptus oils have very different effects, they can still be used interchangeably.
Head
Take care of your hair: Massage a few drops of Eucalyptus Radiata into your scalp and enjoy the rejuvenating fragrance of your hair.

Go on your to-do list: Massage a drop of eucalyptus behind your ears. Let the uplifting aroma inspire your thoughts and projects.

Fill up with spa vibes: apply 4-6 drops of Eucalyptus Blue to a warm, steaming washcloth. Spoil yourself from head to toe.
Shoulders
Prepare for your training/your yoga practice. Mix 8-10 drops of Eucalyptus Radiata with 4 cups of water, 1 tablespoon of vegetable glycerin and 1 tablespoon of magic hazel. Spray on your yoga mat/fitness equipment before your workout.

Take care of your muscles. Add a few drops of Eucalyptus Globulus to the Relaxation Massage Oil for a relaxing, revitalizing massage.

Enjoy some rejuvenation and refreshment. Moisten a few towels with some water and a few drops of Eucalyptus Blue. Roll them up and put them in the fridge. Take them out after your workout and place them on your shoulders to cool.
Sun salutation – diffuser blend
Create an uplifting room atmosphere for your morning workout with a combination of Eucalyptus Globulus, Green Mint and Valor.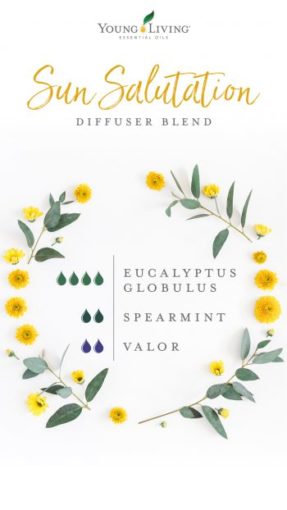 Knee
For beautiful, supple legs and knees: Make yourself a homemade peeling soap.
Re-hydrate and rejuvenate your skin: Add a few drops of Eucalyptus Globulus or Eucalyptus Blue to your favourite body lotion to care for dry, stressed body areas.
Relax your joints: Create a relaxing roll-on for your muscles and joints by adding a little V6 to the roll-on and a few drops of eucalyptus to pamper your tired, tense muscles and joints.
Free and unbound – the diffuser blend
Want a little more pep in your step? Combine eucalyptus radiata with the invigorating scents of citronella, blue cypress and spruce.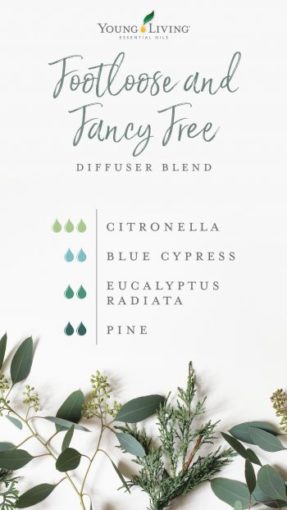 Toes
Say goodbye to smelly shoes. Make your shoes fragrant by scenting them. Mix some eucalyptus oil with water in a spray bottle and spray it on your stinky shoes if necessary. (In particularly hard cases, it is sometimes necessary to put a pure drop directly into the shoe…)

Spoil yourself with a foot wellness of the special kind. Prepare a foot bath with 1 tablespoon of Epsom salt, 1-2 teaspoons of AlkaLime and 10 drops of eucalyptus.

"Good night" – Rub a few drops of eucalyptus on the soles of your feet before going to bed. Inhale the soothing fragrance as you cross over into the land of dreams.
Shooting Stars Diffuser blend
Stuffy air and hot temperatures that make you roll from side to side? Purify the air and make it easier for you to fall asleep with a combination of rosemary, eucalyptus blue and lavender.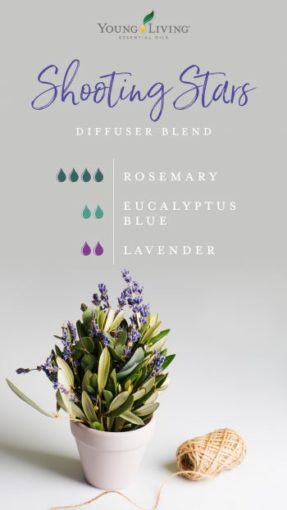 I wish you a fresh start into May,
Love,
Eila Büche for Team ENJOY
Ps: Don't have your own Young Living order account yet? Then go to our aroma experts here, pick someone from your area, and order your essential oils right away. Why wait any longer?
Pss: Would you like to come to a fragrant evening and experience the oils live? Then register here, as soon as the next oil evening takes place in your area, you will be invited to it.