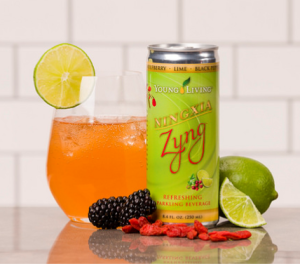 The magic power of black pepper* and lime**
NingXia ZYNG is a light, sparkling beverage that delivers a splash of hydrating energy.
Its benefits are fueled by its proprietary blend of pure black pepper and lime essential oils, wolfberry puree, and white tea extract.
Added to this blend is sparkling water and vitamins to create a unique, delicious, and refreshing experience.
At only 35 calories per can, this guilt-free spritzer invigorates the senses without the use of artificial flavors, colors, sweeteners, and preservatives, making it the perfect option for those looking for a little ZYNG!
Why should you drink NinXia Zyng?
• Sparkling and Refreshing with light carbonation
• With Natural Lime and Black Pepper Essential Oils
• No artificial flavors, colors, sweeteners or preservatives
• Hydrating energy
• Natural ZYNG
• Preservative free
• No artificial colors, flavors, sweeteners
*Black Pepper (Piper nigrum): has a pungent, crisp aroma that is comforting and energizing. It is supportive of the digestive system and is useful topically for soothing muscle discomfort following exercise. Black pepper may also be used to enhance the flavor of foods.
**Lime: Lime essential oil has an invigorating and stimulating effect and is believed to be native of eastern Malaysia. The pleasant citrus aroma of lime may help mental clarity and encourage creativity. Today, lime is best known throughout the world as a way to help support a healthy immune system. When taken internally, lime may provide antioxidant support and aid in weight management. When applied to the skin, lime oil may also support healthy skin.