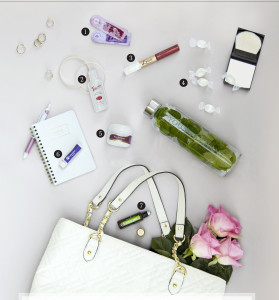 If you reach into your Purse for your keys or wallet and seem to grab everything exept what you're looking for – it may be timefor a purse makeover.
Making sure that you have only what you really need on the go can help you feel better organized and more at ease throughout your busy day.
Step 1: The first step to rethinking your purse is to make sure, that everything you're carrying has a good reason to be there.
Not sure you need those old redeipts? Throw out old ones – and file away the ones you may need to hang onto.
Don't wear lip gloss anymore? Replace it with a versatile colour you love and that will refresh your look wherever you need it!
Step 2: The second step is to carefully select helpful, necessary items to replace what you've tossed.
Your essentials – phone, wallet, keys, and sunglasses – will need some company!
Check here for the essential oil infused must-haves in any purse:
1) EO Sample packets
Stash a few essential oil sample packets in your purse. The packets not only make it easy for you to share with those aroung you – but they're a convenient way to use them yourself whenever you need just a few drops of some of your favourite essential oil.
2) Thieves Waterless Hand Purifier
is the perfect solution for cleaning hands when soap and water aren't an option.
Just squeeze a small amount into dry hands, rub together to distribute, then let dry.
3) L'Briante – these unique lip gloss/essential oil duos are perfect to freshen your look when you're out and about!
Apply a light layer of lip-gloss – with or without a first layer of your favourite hydrating lib balm – then swipe the essential oil scent on your wrists and neck. You cann mix and match L'Briantee's sthree luminous colours and three uplifting scents for a signature combo that's all you.
 4) Thieves Fresh Breath Mints are powered by Thieves essential oil blend and infused with sweet Lemon and fresh Peppermint essential oils. Popping in a mint will give your mouth a refreshing, minty taste and scent. Because these mints are infused with Thieves essential oil blend and are made from pure, sugar-free ingredients, you aren't just getting fresh breath—you are doing your whole body a favor!
5) Boswelia Wrinkle Cream is a perfect moisturizer to stash in your purse. Its infusion of geranium, myrrh, sandalwood, and ylang ylang essential oils soothe and soften the skin, while frankincense and wolfberry oil enhance collagen formation.Moisturize rough-looking areas and deeply hydrate dry skin by rubbing it into hands, face, elbows, knees and feet.
6) Lip Balm with Grapefruit, Lavender or Cinnamint seal in moisture for supple-looking lips. Keep your favourite variety on hand to hydrate your lips when they're thirsty.
7) Stress Away Roll-On is a unique, great-smelling essential oil blend of Vanilla, Lime, Copaiba, and other essential oils that provides a relaxing aroma with a convenient roller application. Apply its sweet, calming aroma on wrists, neck, or palms to keep you cool and to start conversations!
And of course – never forget your business Cards!