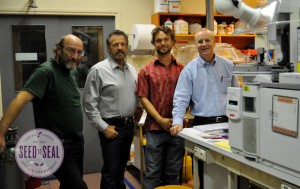 Gary Young learned GC-MS (gas chromatography/mass spectroscopy) analysis techniques from Dr. Herve Casabianca, who works for CNRS in France.
Dr. Casabianca is well-known in the field of essential oil GC-MS analysis in Europe. Along with Dr. Casabianca, Young Living has two GC-MS instruments, one at the Young Living Ecuador Farm and the other at the Young Living Global Headquarters in the Research & Development labs.
Dr. Richard Carlson and Dr. Cole Woolley operate the GC-MS instrument in Young Living's Research & Development labs in Lehi, Utah. Dr. Carlson and  Dr. Cole Woolley have PhDs in analytical chemistry in addition to more than 50 years of collective research experience in GC-MS and other analytical instrumentation.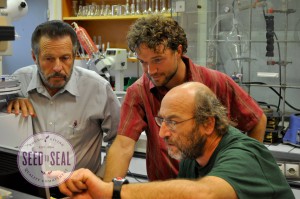 Testing essential oil samples by GC-MS can be performed by inexperienced technicians and scientists. However, interpretation of GC-MS data is typically reserved for the experienced PhD scientist who is familiar with essential oil molecular components who can interpret the results from the GC-MS instrument. and interpreting GC-MS spectra.
Essential oils are readily analyzed by gas chromatography/mass spectroscopy (GCMS). The GC portion of the instrument separates the 100-300 unique molecules by heat using only a single drop of essential oil.The MS portion of the instrument identifies each molecule by name (e.g., limonene)